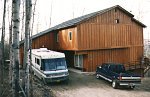 Located in Fairbanks
I became a realtor in Fairbanks in 1992. I have worked in real estate since that time as follows: Century 21 Gold Rush 1992-1994; Coldwell Banker Greatland Realty 1994; ERA Meyeres Real Estate 1994-1998. I upgraded to Broker and started Chris Calhoon Real Estate in 1998.
Since opening my own brokerage, I have made a career decision to work exclusively with buyers I am Fairbanks' first and most experienced Exclusive Buyers Agent/Broker. My fiduciary loyalty is totally with the buyer.
My commissions are generally paid by the seller so my services to the buyer are FREE.
Accredited Buyer Representative (ABR®) Designation I now have been awarded the Accredited Buyer Representative (ABR®) Designation by the Real Estate BUYER'S AGENT Council, Inc. of the NATIONAL ASSOCIATION OF REALTORS®.
I am a multi-million dollar producer annually. My net real estate income is in six figures annually. I own approximately 2.3 million dollars of real estate in Fairbanks, Anchorage and Las Vegas which I personally manage. I also manage numerous properties for my buyers who have decided to rent out their properties. I know the Fairbanks market well and I have established a reputation in the community as a true advocate for the real estate buyer. I bought and sold numerous homes during a military career, so I know well the needs of today's buyers.